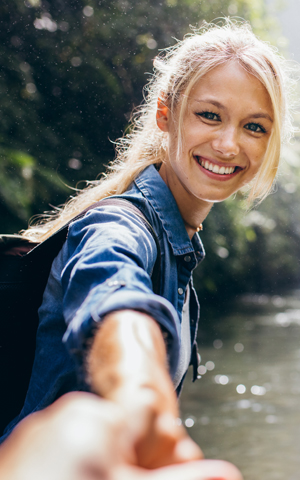 Everything we do is focused on keeping your teeth and gums healthy, but what about making them look nice? We do that too! We can use cosmetic dentistry to make your smile dazzling in completely new ways.
Do you need your teeth to be straighter, whiter, or shaped better? Do you need to upgrade your smile for a special occasion—or simply for a better quality of life? Call Kocian Family Dentistry to get fast, dramatic results with the cosmetic services below.
Teeth Whitening
Get ready for a special event or a new job. We can whiten your teeth by up to 10 shades. We'll position the whitening tray just right, and you can sit and relax while the formula works to whiten your teeth. You can also take a kit home with you and enjoy your whitening treatment while sitting on your couch.
Veneers
Porcelain veneers bond to the front of your teeth. That means we can make your teeth look any way you'd like: white, undamaged, straight. We can cover gaps, cracks, and stains. Let us know about your goals for your new smile!
Dental Crowns & Bridges
Crowns and bridges repair and strengthen teeth, covering cosmetic problems. Bridges can even fill in an empty socket. Get your confidence back by repairing and completing your smile!
Invisalign® Orthodontics
Having crooked teeth is a very common complaint, but many patients don't like the look of metal braces. Instead, get clear aligners that gradually move your teeth to make them into a straight and stunning new smile!
Dental Implants
Are you missing a tooth? Do you want to hide the socket? A dental implant permanently fuses to your jaw, becoming a strong, functional, confidence-boosting part of your smile.
Dentures
Are you missing some or all of your teeth? Dr. Kocian would love to give you back your ability to smile, eat, talk, and socialize with confidence. Ask about full, partial, or implant-supported dentures.
Contact Dr. Kocian for a New Smile!
The beautiful smile you've always wanted could be right around the corner. If your smile has been damaged by a cavity or another problem, we can fix it. Just contact Kocian Family Dentistry today!