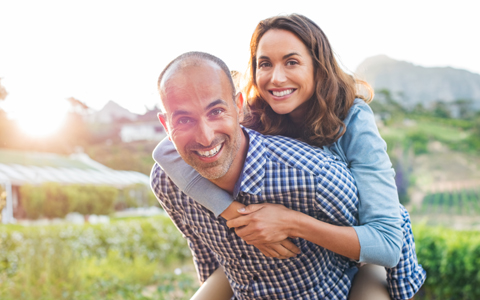 Are you missing a tooth or teeth? We know how frustrating and uncomfortable that can be! You might have trouble eating and talking, and you might not want to smile in family pictures. Wouldn't it be wonderful to have a new—and maybe even better—tooth?
We take care of the entire process of dental implants right here at Kocian Family Dentistry. That means it'll be simple for you. Throughout the process, you'll come to the same office and work with the same team who understands your needs.
We have years of experience with dental implants. We're trusted in the Grenta, NE area. If you're tired of missing a tooth or teeth, contact Dr. Kocian today!
What Is a Dental Implant?
Dental implants may be a totally new concept for you. They're very different than other dental techniques you know.
What is a dental implant? It's a titanium tooth root that replaces the root of your missing tooth. Using a safe, time-tested surgical procedure, we'll place this new root in your jawbone.
We're excited to offer them to you because they can give you incredible results, including:
Completing your unique smile and restoring your confidence.
Allowing you to chew normally, get the nutrition you need, and to relieve strain on your digestive system.
Stopping your other teeth from moving into a gap left by a missing tooth.
Fixing your bite and preventing uneven tooth wear.
Protecting exposed gums from infection and damage.
Your dental implant can hold a new tooth crown to replace a missing tooth. You could also get several implants to support larger appliances, such as dentures. An implant is a great way to support whatever new teeth you need in order to complete your smile!
What Is the Dental Implant Process?
Getting dental implants takes just a few, simple steps:
Consultation: We'll examine your dental health, take three-dimensional scans of your mouth, and discuss our recommended options with you.
Implant Surgery: If you're an ideal candidate, we'll schedule you for a surgery to place your new, super-strong titanium tooth root into your jawbone.
Recovery: You'll spend some time at home going about your normal life, allowing the tooth root to fuse with your jaw. This takes no special effort on your part. The titanium stimulates the bone's natural growth and fuses with the bone to provide a secure post.
Restorative Services: We'll place your new tooth crown or other appliance on your implant(s). We'll make sure your new tooth is the right color and looks natural.
Once your tooth is restored, you'll be able to smile, talk, and clean your teeth like you always have. Plus, you can come back to see Dr. Kocian any time if you need help with your implant.
Call Dr. Kocian for an Implant Consultation
If you're frustrated with a missing tooth or teeth, contact Kocian Family Dentistry today for a consultation. Don't let your other teeth start moving or get worn out! We can get you an appointment for the first available consultation slot and discuss your options. Call now.